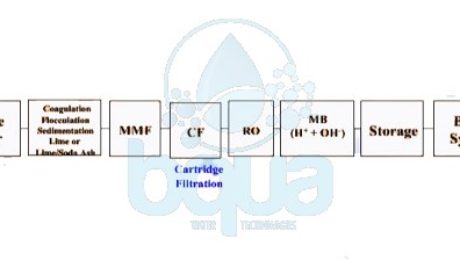 Boiler Feed Water Properties
Requirements for boiler feed water design and requirements include maximum tolerance levels of alkali, salt, silica, phosphates and other elements. This is in proportion to the pressure at which the boiler will be operated. These boiler water levels must be gotten from the boiler manufacturer, and are basically based on the boiler water properties.
Below tables are the recommended boiler feed water properties / boiler feed water chemical characteristics (levels) Â taken from APAVE. Which is the Association of electrical and steam unit owners), up to pressures of 100 bar for medium steaming rates and for volumes of water in the chambers sufficient to properly control the blow down rates, and from ABMA (American Boiler Manufacturers Association) in its standard guarantee of steam purity.
Boiler Working Pressure (Bar)
0 – 20.7
20.8 – 31.0
31.1 – 41.4
41.5 – 51.7
51.8 – 62.1
62.2 – 68.9
69.0 – 103.4
103.5 – 137.9
Boiler Feed water
Dissolved oxygen (measured before oxygen scavenger addition)
0.04
0.04
0.0070
0.007
0.0070
0.007
0.007
0.007
Total Iron
mg/l
0.1
0.05
0.03
0.025
0.02
0.02
0.01
0.01
Total copper
0.05
0.025
0.02
0.02
0.015
0.015
0.01
0.01
Total hardness(CaCO3)
0.3
0.3
0.20
0.2
0.1
0.05
not detectable
Non volatile TOC
1
1.0
0.5
0.5
0.5
0.20
0.2
0.2
Oily matter
1.0
1
0.50
0.5
0.50
0.2
0.2
0.2
pHÂ at 25
7.5 – 10
7.5 – 10
7.50 – 10.0
7.50 – 10.0
7.50 – 10
8.5 – 9.5
9.0 – 9.6
9.0 – 9.6
Boiler Water
Silica
mg/l
150
90
40
30
20
8
2
1
Total alkalinity (CaCO3)
350
300
250
200
150
100
not specified
Free hydroxide alkalinity CaCO3
not specified
not detectable
Specific conductance at 25 without neutralization
mS/cm
3500
3000
2500
2000
1500
1000
150
100
Boiler Working Pressure (Bar)
0 – 15
15 – 25
25 – 35
35 – 45
40 – 60
60 – 75
75 – 100
Boiler Feed water
Dissolved oxygen (measured before oxygen scavenger addition)
mg/l
0.02 (Physical removal of dissolved oxygen)
Total hardness
French degrees
0.5
0.3
0.2
0.1
0.05
0.05
0.05
Oily matter
mg/l
absence
0.05
0.05
0.05
pH
> 8.5
Total Iron
mg/l
not specified
0.05
0.05
0.03
Total copper
not specified
0.03
0.03
0.01
Boiler water
MÂ alkalinity
French degrees
100
80
60
40
15
10
5
P alkalinity
0.07 M
0.070 M
0.07 M
0.070 M
> 0.5 M
> 0.5 M
> 0.5 M
SiO2
mg/l
200
150
90
40
15
10
5
TDS
4000
3000
2000
1500
500
300
100
Phosphates
30 to 100
31 to 100
20 to 80
21 to 80
10 to 60
10 to 40
5 to 20
pH
10.5 to 12
10 to 11
Make up water
Softened or softened and carbonate free
Demineralized